Services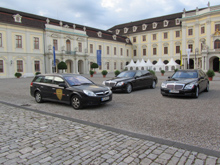 We are happy to advise.
We would like to present our services to you.
If you are interested in these services you can contact us at any time, we will be happy to advise you and make you a free, non-binding offer.
Site security
Site security is one of our key business areas. Our specialists focus on monitoring and controlling your property. This includes controlling the entry and exit of customers and visitors, monitoring your technical equipment and gate and locking up services.
Reception and gate services
The reception and gate service is your company's hub of information and is the first impression made on customers and visitors. Depending on customer requirements, our staff take over the access control of people, key management and telephone switchboard duties with amicability and professionalism.
Surveillance services
Your property's security is even guaranteed during your absence thanks to the surveillance of your site on foot and in a vehicle. Any threats, i.e. burglary, fire or sabotage, can be detected early and possibly prevented. The security agent controls the customer's protected area through regular surveillance patrols and has a deterrent effect due to their presence on the customer's property.
Store detective
Our detectives are specially trained in combating theft. The aim is to prevent theft in retail. Staff are taught new strategies and effective options for combating theft through regular courses.
Doorman
A doorman attracts attention with their mere presence right in front of the entrance to your shop, event or hotel and is also a deterrent. We provide you with courteous, presentable staff who enhance your company's positive image.
Security at events
We discreetly ensure that your event, trade fair or private event runs smoothly and safely with our presence.
Construction site security
You can realise your construction projects at ease with us by your side. We ensure a maximum protection and security for your construction site.
Personal protection (armed or unarmed)
Our bodyguards are former police officers, who are experienced in self-defence and compile a personal protection concept for your first of all. The focus is on protecting the customer with their lives. Personal protection has a broad scope that requires a great deal of advice and the building up of trust.
IT security
IT security includes the development of an IT security concept, the implementation of this concept, as well as IT security checks and staff training.
The secure exchange of data and information is an important component of every company. As a result, IT security is extremely important and is aimed at providing maximum levels of security in IT.
Alarm activation / intervention services
We have our own 24 h emergency hotline and service control centre.
The safety and security of your company is enhanced by connecting your alarm systems to our security control centre. This protects them more effectively from threats, such as burglary, sabotage and fire, as our intervention services are immediately activated in the event of an alarm.
This intervention service consists of driving to the site immediately and patrolling it on foot, as well as an inspection of the site by trained intervention specialists.
Our emergency hotline and service control centre is available round the clock, 24 hours a day.
Hotline: +49 (0)7127 / 94 79 79 - 7
Video, alarm and security technology
The range of security technology on offer is vast and each customer has very different, specific needs. We therefore recommend having the equipment selected by specialists.
We realise your projects from one source, from non-binding customer advice, to the sale of security technology coordinated to your needs, to the installation of systems.
Afterwards, we take over the maintenance of your systems and provide training for your staff on the provided systems.
Training/courses
We provide the following courses:
Preparation for the statutory examination in accordance with Art. 34 GewO
Preparation for the final examination for safety and security specialists
Examination preparation for safety and security masters
First-aid courses
Fire protection courses
Suitable conduct based on situations
Access techniques
Please contact us for more information.
EURO SECURITY GmbH
Service & Facility Management
Max-Eythstr. 32
72649 Wolfschlugen

Telephone: +49 (0)7022 -9094310
Emergency hotline:
+49 (0)7022 / 252877-0
Mobile: +49 (0)157- 56990798
Fax: +49 (0)7022 – 9094309
Get in touch
Simply contact us so that we can find the best solution for you together.
You can reach us by email or phone.