Legal notice
EURO SECURITY GmbH
Service & Facility Management
Max-Eythstr. 32
72649 Wolfschlugen

Telephone: +49 07022 -9094310
Emergency hotline: +49 (0)7022 -9094310
Mobile: +49 (0)157-56990798
Fax: +49 (0)7022 / 252877-8
E-Mail: info@eurosecurity-stuttgart.de
Commercial register: Court of registry Stuttgart HRB 760 447
Value added tax identification number: DE 312330198
Head office: Wolfschlungen
CEO: I.Avdi
Disclaimer
1. Website content
Euro Security GmbH does not assume any liability for the topicality, correctness, completeness or quality of the information made available. Liability claims against Euro Security GmbH, which relate to material or conceptual damage, which have been caused by the use or non-use of the information presented, or the use of erroneous and incomplete information, are fundamentally excluded, in so far as there has been no demonstrable intentional or grossly negligent behaviour on the part of Euro Security GmbH.
All offers are subject to change and are non-binding. Euro Security GmbH expressly reserves the right to change parts of the site or the entire offer, without special notification, and to add to, delete or adapt the publication from time to time or conclusively.
2. References and links
For direct and indirect references to external internet sites ("links"), which are outside Euro Security GmbH's area of responsibility, liability will come into effect exclusively in the event that the author was aware of the content and it was technically possible and reasonable, to prevent use in the event of unlawful content.
The author expressly declares that at the time of the link setting, the relevant linked sites were free of illegal content. Euro Security GmbH has no influence whatsoever on the current and future composition, or on the content of linked/associated sites. It expressly distances itself from all content of linked/associated sites which have been altered after link setting.
This declaration applies to all links and references set within their own website and also for external entries to Euro Security GmbH, guestbooks, discussion forums and mailing lists. The provider of the site referred to alone is liable for illegal, defective or incomplete content, and in particular for damage which results from the use or non-use of such information presented, not the person who is merely referred to via links to the respective publication.
3. Copyright and trademark law
Die Firma Euro Security GmbH ist bestrebt, in allen Publikationen die Urheberrechte der verwendeten Grafiken, Tondokumente, Videosequenzen und Texte zu nutzen oder auf lizenzfreie Grafiken, Tondokumente, Videosequenzen und Texte zurückzugreifen.
Euro Security GmbH endeavours in all publications, to pay attention to copyright of the graphics used, to audio documents, video sequences and texts, to use graphics, audio documents, video sequences and texts created themselves, and to revert to licence-free graphics, audio documents, video sequences and texts.
All brand and trademarks stated within the website and if necessary, protected by a third party, are unreservedly subject to the stipulations of the respective applicable trademark legislation and the rights of ownership of the respective stated owner. Just from mere mention, it is not to be concluded that the trademark is not protected by third party rights! Copyright for published items, and items created by Euro Security GmbH themselves, are Euro Security GmbH's alone. Reproduction or use of such graphics, audio documents, video sequences and texts, in other electronic or print publications is not permitted without the express approval of Euro Security GmbH.
4. Legal validity of disclaimer
This disclaimer should be seen as part of the website from which this page was referred. In so far as parts or individual formulations of this text are not, are no longer or do not correspond completely to the valid legal status, the remaining sections of the document are unaffected in their content and validity by this.

Training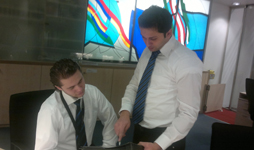 We are a training centre certified by the Chamber of Industry and Commerce and provide safety and security specialists, as well as staff qualified in accordance with Art. 34 of the GewO (German Trade, Commerce and Industry Regulation Act).
Committed and professional staff are the key to our success!
If you are customer focused and value a collegiate working climate, interesting job and excellent promotion prospects, then this is the right place for you.
Send your application to the following address
Emergency hotline / Quality management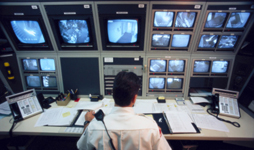 We have our own 24 h emergency hotline and service control centre.

We are certified in accordance with DIN EN ISO 9001 : 2008 and use a quality management system.

The environment, future generations and the careful use of resources is important to us. We have the 14001 Din EN ISO: 2009 certified and use an environmental management system.

We officially support the preventive work of the police trade union.
EURO SECURITY GmbH
Service & Facility Management
Max-Eythstr. 32
72649 Wolfschlugen

Telephone: +49 (0)7022 -9094310
Emergency hotline:
+49 (0)7022 / 252877-0
Mobile: +49 (0)157- 56990798
Fax: +49 (0)7022 – 9094309
Get in touch
Simply contact us so that we can find the best solution for you together.
You can reach us by email or phone.